[Editor's Note: Story has been updated at the end with a quote from Toyota USA regarding the Prius v and lack of a third row.]
Toyota last week made a couple of announcements related to the forthcoming new generation of Prii (plural for Prius) emerging from Japan. The auto manufacturer specifically talked about the launch of the Prius "alpha" multi-passenger hybrid that expands the popular vehicle to hold more people in certain configurations.
It was said by Toyota that the Prius alpha has launched in Japan, with plans for a North American roll out as the five seat Prius v this summer (or fall, based upon what Toyota USA is saying) and, in Europe, the seven seat Prius + by mid-2012. These launch plans look to be later then Toyota originally hoped for due to the devastating earthquake that hit Japan earlier this year. The quake dramatically impacted the company's production schedule, which was first mentioned back in April.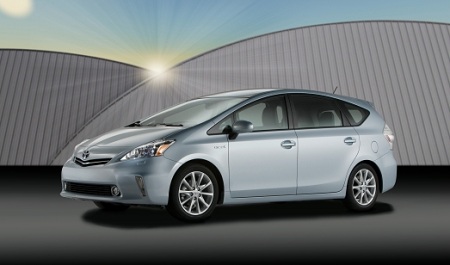 The vehicle, according to Japanese specifications, will range in price between $29,000 and $41,000. Five configurations holding either five or seven passengers will be available. Though no official data has been given yet on what the MPG rating will be for the American version, it was noted earlier this year at the Detroit Auto Show that the Prius v is expected to have an EPA combined fuel economy of 40 mpg – 38 on the highway and 42 in the city.
Unfortunately, those in the States waiting for the seven passenger version of the Prius will be unhappy to know that it doesn't look like Toyota is releasing it in this configuration here at this time. The way the Toyota Japan press release mentioned "TMC aims to enhance and expand its range of hybrid vehicles around the world with more Prius derivatives, such as the five-seat Prius α-based 'Prius v' planned for launch in North America this summer" got us wondering, so we contacted Toyota USA. A company spokesperson has initially confirmed for us as such, and we are waiting to hear back on why.
One possible reason, based upon this report over at Automobile Magazine, is because of lithium-ion battery shortages due again to the earthquake. As noted in the Toyota Japan press materials, the seven passenger configuration – essentially a third row of seats – is made possible because of a space saving design this battery allows for that sticks it in the center console. As Green Car Reports notes around this issue, because of the lithium ion battery shortages the Prius v will ship with "the same old nickel-metal-hydride technology Toyota has fitted to Prius models since 1997."
It is also possible as well Toyota may just see no market for it here in the U.S. right now, which would be weird when you consider how we like to haul our families and associated consumer items around town and on road trips. Wouldn't a seven passenger version be a natural fit for the U.S. market? We think so.
QUOTE FROM TOYOTA USA REGARDING LACK OF THIRD ROW: "We felt a third row would not have sufficient room for North American preferences. On RAV4, with a comparably sized cargo area, only five percent of buyers choose to have a 3rd row. A 3rd row also requires moving the location of the hybrid traction battery, which could impact space in other areas of the cabin."