Urban Green Energy has just announced a new lighting product that combines old-school styling with new-school renewable energy. The "Boardwalk," as it's called, is meant to be reminiscent of  gaslights from around the turn of last century and integrates a 600 watt vertical axis wind turbine (VAWT), a 150 watt solar panel, battery back-up system and a 60-watt LED bulb.
The renewable energy powered Boardwalk is intended to offer a classically styled lighting solution in areas where grid power is a less-than-ideal option. Urban Green Energy says it thinks the new light is well suited for parks, pathways and any other area where a grid-tied light would involve considerable and costly construction.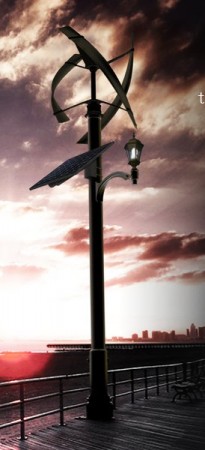 The Boardwalk stands 23 feet tall and is constructed of powder coated steel. The light is mounted at 18 feet above the ground, adjacent to the solar panel and below the VAWT. The wind turbine is said to have a safe wind speed of over 120 MPH and is said to output 600 watts with a rated wind speed of 27 MPH. The light is available with a 5-day and 7-day battery.
Urban Green Energy has said it expects completed installations of the Boardwalk in New Jersey and Illinois sometime next month. The company also produces the Sanya, a renewable energy street-light with a more industrial feel.