Is Sempra Energy purchasing renewable energy from itself? Well, sort of. Both San Diego Gas and Electric (SDG&E) and Sempra Generation are subsidiaries of Sempra Energy and, according to this statement, the two have entered into a 20- year contract that would have SDG&E getting up to 156 megawatts (MW) of renewable power supplied from the first phase of Sempra Generation's Energia Sierra Juarez wind project in Baja California, Mexico.
SDG&E says it selected Energia Sierra Juarez as part of the its 2009 competitive solicitation for renewable resources. The wind project was reportedly compared to other competitive bids and the process was overseen by an independent evaluator, as required by the California Public Utilities Commission (CPUC).  The contract is still subject to approval by the CPUC and Federal Energy Regulatory Commission. SDG&E also called to attention the fact that this contract is one of twelve renewable energy contracts that it has entered into in as many months that brings the utility a combined total of over 1,000 megawatts of clean energy.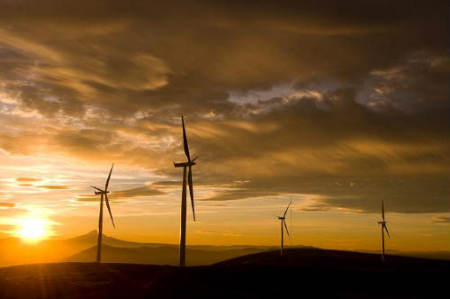 Sempra may be letting go of some of its interest in the wind farm, though. According to SDG&E, Sempra announced a preliminary agreement between itself and BP Wind Energy has been reached that gives BP Wind a 50-percent partnership interest in Energia Sierra Juarez.  The companies now are working on a joint development agreement for the wind project. This would be the third such partnership between Sempra and BP as the two have previously reached agreements on the 200 megawatt  Fowler Ridge II wind farm in Benton County, Indiana and the 250 megawatt Cedar Creek II wind farm near Fort Collins, CO.
Energia Sierra Juarez is a wind farm development that is to be located along the Sierra Juárez mountains on the Baja peninsula. The first phase will be located in the Ejido Jacumé north of the town of La Rumorosa, about 70 miles east of San Diego and across the U.S.-Mexico border. Sempra said construction is now expected to commence sometime next year, with completion slated for sometime in 2013. Long terms plans for the development indicate that the facility could one day produce as much as 1,200 megawatts. Energy from the facility would connect to the existing California electric grid at SDG&E's proposed ECO substation in eastern San Diego County via a new cross-border transmission tie-line.