Google is hosting its first global online science fair competition. The internet giant says it received over 7,500 entries from over 10,000 young scientists across 90  countries. Google stopped accepting project proposals in early April and recently announced 60 semi-finalists that were parsed into three different age categories: 13-14, 15-16 and 17-18. Google will reportedly whittle down the contenders to 15 global finalists who will be judged by a panel of "acclaimed scientists including Nobel Laureates, tech visionaries and household names."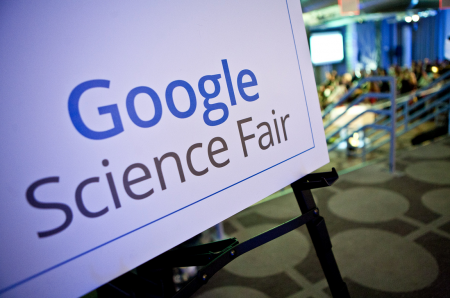 The the company is also sponsoring a "People's Choice" award and has posted the 60 semi-finalist's projects online for review by the internet-at-large. The projects are broken down into age categories and each project page includes a brief description accompanied by a slide-show or video submission. We decided to offer our top green picks from each age category and include a brief on those projects below.
"Harvest Solar Power with Fruit Dyes"- Author Michael Wang, USA. Age: 13-14
Representing solar energy is Mr. Wang's experiment whic hypothesisizes that it is possible to harness solar energy using fruit dyes and that different dyes would yield different different energy levels. In his experiment, he shows how red and purple dyes outperform yellow and blue dyes when used in conjunction with titanium oxide to produce electricity. His experiment seems remarkably advanced for a student of any age.
"The Efficiency and Testing of a Fully Submersible Geared Water Turbine"- Author Gavin Osvak, USA. Age: 15-16
Mr. Osvak's submission involves a fully submersible water turbine with adjustable-pitch turbine blades that would work with the flow of water rather than against it, as needed. By systematically changing blade placement and pitch, Mr. Osvak developed a "surprising gear ratio" that he says provides optimum efficiency.
"A Working Model of a Device Capable of Filtering Out CO2 From Car Exhausts"- Authors Jun Bing and Alex Wang-New Zealand. Age: 17-18
Mr. Bing and Mr. Wang, in an effort to reduce greenhouse gas emissions and stave off global warming, set the goal of creating a device capable of filtering out at least 10% of the CO2 from a car's exhaust. After several attempts, they came up with a two-stage filtration system that was demonstrated to reduce 90.42% of the CO2 emitted by a 1996 Mazda Sentia running at 2000 RPM.