Jessica Covi, an industrial design student graduating from the University of Applied Arts in Vienna, has designed a hydrogen fuel snowmobile fit for a Bond villain, if said villain were also eco-friendly. Called the Nanuq, the snowmobile has caught some attention online for its motor system.
Comprised of a hydrogen fuel cell system that powers a battery pack and electric engines, the Nanuq seeks to curb CO2 and noise pollution. The vehicle is almost a miniature car-on-ice, featuring side-view cameras, a dashboard complete with GPS navigation, and a variety of safety mechanisms, including a harness seatbelt, airbag, and rollbar.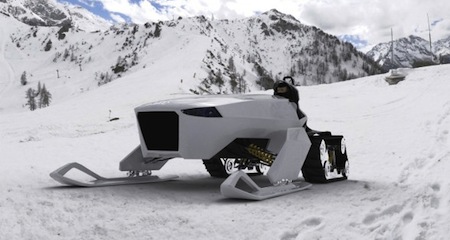 According to an emission survey of Yellowstone Nation Park noted in the design portfolio, snowmobiles account for 50% of CO2 emissions during the winter months; a somewhat surprising figure, but an important point for why electric vehicles of all types can help reduce environmental impact.
As stated above, the Nanuq also cuts down on noise pollution, which may not be as important as harmful gas emissions, but in places like Yellowstone, or other wildlife areas where snowmobiles are used, disturbing the local habitat with loud sounds can have negative consequences for animals.