All that stormwater that runs off the buildings and concrete of our cities does more than turn our streets into rivers when it rains–it dumps pollutants into our nation's streams, creeks, rivers, lakes and coastal waters. The Environmental Protection Agency (EPA), in an effort to combat this, is launching a new strategy to promote the use of green infrastructure by cities and towns to reduce stormwater runoff.
This green infrastructure, in case you were wondering, is essentially good urban planning and landscape design focused on capturing and filtering pollutants by passing stormwater through soils and retaining it on site.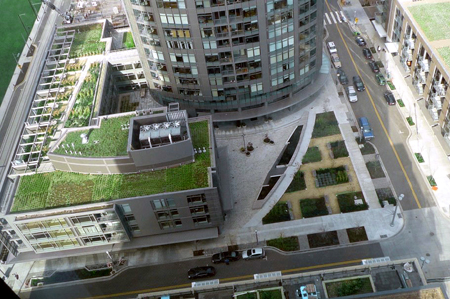 Effective green infrastructure tools and techniques include elements currently popular in green building and home design such as green roofs and permeable paving materials, as well as alternative designs for streets and buildings, strategic placement and planting of of trees, rain gardens and rainwater harvesting systems.
To get the ball rolling on this new, nationwide strategy, EPA will work with local governments, watershed groups, tribes and others stakeholders in 10 cities that have put such green infrastructure to work in the past and plan to expand on these efforts in the future. EPA plans to offer support for these cities as they expand their green infrastructure strategies and highlight them as models for other municipalities around the country.
The 10 cities are: Austin, Texas; Boston, Mass.; Cleveland, Ohio; Denver, Colo.; Jacksonville, Fla.; Kansas City, Mo.; Los Angeles, Calif.; Puyallup, Wash.; Syracuse, N.Y.; and Washington, DC and neighboring Anacostia Watershed communities.
EPA points out that these communities stand to do more than simply improve local water quality; by putting stormwater to work in the urban landscape, rather than letting it roll off into waterways, cities can grow greener, improve air quality and reduce the heat island effect.