In Lakewood, Colorado, (just outside of Denver) seniors seeking green, affordable housing have a new option: the Creekside Residences West, Phase II of the development known as the Residences at Creekside.
This building consists of 83 1 and 2 bedroom apartments ranging in size from 650 – 820 square feet, which are open to seniors with low to moderate-income. The project includes a 64-stall underground parking garage (reducing impact on open space at the ground level), as well as 3,600 square feet of community space at the ground level.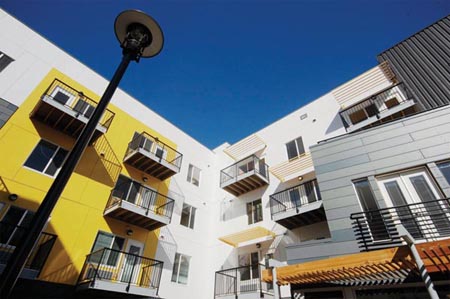 Phase II of the development makes use of passive solar orientation, as well a solar thermal (hot water) and photovoltaic (electricity) system. All told, these features will save residents a significant amount of money on utility bills, as will a variety of energy-saving lighting and temperature controls accessible from within the apartments. The building makes use of super-efficient LED lighting throughout, and is expected to take LEED Platinum certification.
This building, overall, is designed to use about 50% less energy than a similar building built with conventional systems and materials.