A scaled back but still very ambitious wind project under development in California netted itself some more big cash and backers today when Google and Citi announced they will back part of the Alta Wind Energy Center (AWEC) being developed by Terra-Gen Power. This 1,550 MW wind power project, being built in several distinct phases, will get $55 million from each of the two corporate entities. Citi also has underwritten the equity financing for Alta Projects II-V.
Google and Citi plan to back the 102 MW Alta IV project, which is part of the larger AWEC plan that once called for a 3000 MW design back when it secured undisclosed funding from GE as well as getting $1.2 billion in financing for construction and wind turbine orders. The latest press materials offer no explanation as to why the project seems to have been cut in half, but it is still quite impressive in its current planned configuration: nearly doubling the capacity of the largest currently operating U.S. wind energy installation and large enough to supply power to 1.2 million people in 450,000 homes.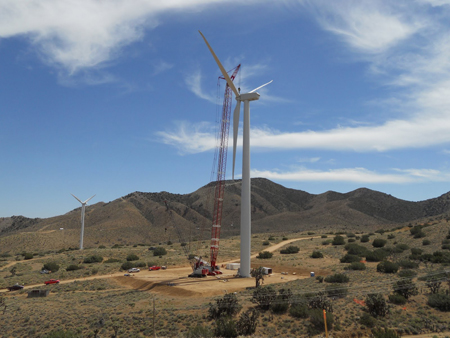 The initial completed five Alta projects, said the project developer Terra-Gen Power, have a generating capacity of 720 MW and represent a 25% increase in installed wind capacity for California. Another 300 MW will be constructed and on-line by the end of this year, making AWEC reportedly the nation's largest wind facility at 1020 MW. Under a power purchase agreement signed in 2006, AWEC will supply all of its 1,550 MW of wind energy capacity to Southern California Edison (SCE).
When completed, AWEC is expected to increase wind industry jobs in California by 20 percent, including more than 3,000 domestic manufacturing, construction, operation and maintenance jobs. The Alta projects will also contribute more than $1.2 billion to the local economy in Kern County.
Google, for its part, certainly hasn't been on the sidelines chilling and waiting for just this one clean energy investment opportunity. It has been an active player in the space, as we've documented a number of times in the recent past. The company stated it has now invested more than $400 million in the clean energy sector.