Every year, the Environmental Defense Fund (EDF) challenges some of the nation's top MBA students to head into corporate America and make it greener through the EDF Climate Corps. This year, 57 specially-trained MBA students in 49 leading companies have developed actionable energy efficiency plans that cut costs and greenhouse gas emissions.
Sure, but do those recommendations actually get put into practice? According to EDF, yes–the program, now in its fourth year, boasts an 86 percent implementation rate.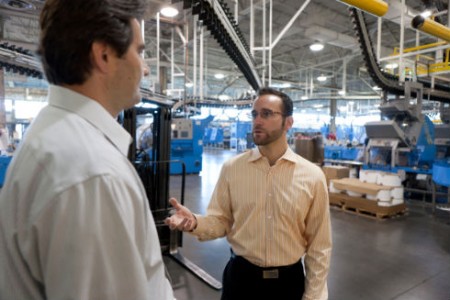 EDF Climate Corps fellows work to uncover opportunities for increased efficiencies in areas such as lighting, computer equipment, and heating and cooling systems. By following these recommendations, companies that have taken part in the program since it started in 2008 have saved $439 million in net operational costs (over the lifetimes of the projects implemented) while avoiding over 557,000 metric tons of greenhouse gas emissions on an annual basis.
Last year, as a result of the program, AT&T implemented occupancy sensors at 250 of its largest offices; Diversey implemented a tool to reduce travel for employees; Hospital Corporation of America implemented an energy efficient lighting retrofit program; and Sungard implemented a no-cost fix to its timed lighting systems that will save the company $20,000 each year in energy costs.
More information on the EDF Climate Corps program is available online.