Dominion Virginia Power is getting busy working on renewable energy. While one arm of the power company works on setting up offshore wind energy infrastructure, the other is occupied trying to convert three of the state's coal power plants to burn biomass instead. In a recent statement, Dominion announced plans to convert power stations in Altavista, Hopewell and Southampton County into full time biomass power plants.
The three facilities, which are identical, went into operation in 1992. Each of them is capable of producing 63 megawatts of   "peaking power", running only during times of peak electricity demand. If converted, Dominion says each station would then produce about 50 megawatts but would operate pretty much around the clock and, in doing so, generate enough power for about 37,500 homes. To go forward, Dominion's plan has to be approved by local governments, the Virginia Department of Environmental Quality and the Virginia State Corporation Commission.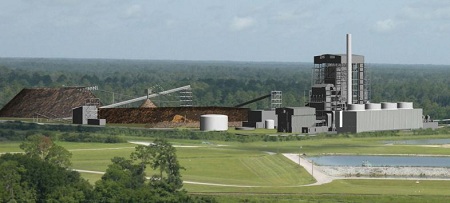 Virginia's relationship with coal doesn't run as deep as neighboring West Virgina's does, but it has been a significant industry for the state. Recent years, however, show that coal's relevance to Virginia's economy is slowly diminishing. According to the Virginia Center for Coal and Energy Research, Virginia's peak coal production year was 1990 when the state's mines produced over 46.5 million tons of the stuff. In 2004, that number dropped to 31 million tons. This could be due in part to dwindling coal mine density in the state. In 1980, Virginia had over 800 licensed mines. By 2001, that number had dropped by more than 50% to 328. Should these conversions get approved, it would make a bit of a dent in Virginia's coal industry.
In other ways, however, the conversions could be a needed boost to the states and local economy.  Last fall, Dominion rendered the AltaVista power station "inactive", cutting staff and putting the station on a sort of standby mode.  A spokesperson for Dominion explained at the time that AltaVista wasn't making Dominion any money due to the plant's cost of electricity production versus other Dominion plants as well as weakening demand for power. According to Dominion's recent statement, "the total economic impact over the 30-year life of the stations would be more than $350 million, including $30 million in local taxes, $180 million for the creation of more than 300 hundred jobs in the forestry and trucking industries and about $120 millionpaid to the 90 employees who would work at the stations."
EarthTechling wants your opinion! Take EarthTechling's 3-minute reader survey and enter to win a $250 Amazon gift card.  The 2011 survey closes on April 15, 2011.