The idea of using the motion of the ocean to generate electricity is a hot one right now. In the last few months, we've seen all sorts of ocean power action from Hawaii to Oregon to Kenya. The UK is also seeing its fair share of this approach to clean, renewable energy generation. Underwater kites and135 foot deep ocean buoys are being deployed off the coast of Scotland and other areas surrounding the UK to harness the ocean's tidal energy. We've got more news now about under-sea energy efforts as partners Marine Current Turbines (MCT) and RWE npower renewables (RWE) announced that they have filed an application for permission to install a 10MW array of tidal stream turbines off the coast of Wales in 2015.
The partnership's project company, SeaGeneration Wales, uses a different approach to harnessing tidal energy. Similar to a tidal turbine that we covered last year, their  "SeaGen" looks and operates like an underwater windmill. Each unit has two rotors mounted like wings to a large column that is anchored to the sea floor. The rotors drive a generator via a gearbox in a manner similar to a wind turbine. Each of those rotors can be pitched up to 180 degrees in order to harness both the ebb and flow of the tide. Should the rotors need maintenance or repair, the whole "wing" assembly can be moved up the column to be exposed above sea level.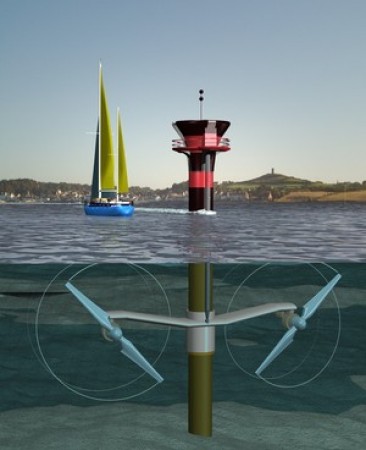 A 1.2 MW SeaGen has been operating off the coast of Northern Island since 2008 and is currently certified by OFGEM (The Office of Gas and Electricity Markets) as the only official tidal current power plant in the UK. If permission is granted to SeaGeneration Wales to proceed with their project, they will install an array of seven tidal turbines that they say will generate enough electricity to power 10,000 homes. The array would be situated between the Skerries islands and Carmel Head, about 1km off of Wales' Anglesey coast, and occupy an area of about 0.56km²  (about .21square miles)
SeaGeneration estimates the installation will cost around £70 million (currently about $112 million) to develop and, where possible, will contract with local businesses to assemble, install, operate and maintain the array, thereby creating "many new green jobs".