It seems fitting that the new home of The Golisano Institute for Sustainability at the Rochester Institute of Technology (RIT)–which offers one of the world's first Ph.D. programs in sustainability, as well as master's degrees in sustainable systems and sustainable architecture–would be built green. Recently, the college broke ground on a new campus building for the Institute, which will be constructed with a grant from the National Institute of Standards and Technology's (NIST's) Construction Grant Program.
This is a very competitive grant cycle, as Stella Fiotes, chief facilities management officer for the NIST, pointed out, in a statement. "In this particular competition," she said, "we received 124 proposals requesting close to $1.3 billion in NIST support. Of those we were able to fund five projects, including this one, with a total of $50 million. So RIT is in a very select group."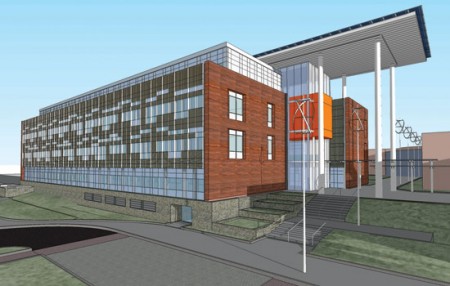 The facility will house multiple labs, classrooms and conference rooms dedicated to RIT's graduate programs in sustainable business practices, which are focused in material flow, energy utilization and technology and policy. It will also serve as a "living laboratory" to test these practices, making use of state-of-art building technologies and an advanced facility monitoring system that will illustrate the building's performance. The facility will be constructed to LEED certification standards–which shouldn't be a problem for RIT, as it already features one LEED Platinum and one LEED Gold building.
$13.1 million in grant funding through the NIST Construction Grant Program was matched by $10 million in funding from the state of New York to assist with construction of the facility, which is expected to make the Greater Rochester area a hub for sustainability research and education.