Somewhere, lost among the efforts to design a bigger, tougher, higher-efficiency wind turbine, is the notion that the technology that produces our clean energy ought to be green itself. That oft overlooked intention hasn't been lost on the father-daughter team of Sharolyn Vettese and Alfred Mathieu PhD, though. The two have designed a high-efficiency, compact, noise-free wind turbine called the  Windancer for Canadian company Wind Simplicity that has since won the Design for Recycling award from the Institute of Scrap Recycling Industries (ISRI). The award, according to this statement,  is ISRI's top honor.
According to Wind Simplicity, what makes many of the huge wind turbines that we see erected today not-so-green is the fact that their large rotor blades are made out of composite fibers, like fiberglass. When these turbines hit the end of their life cycle, the blades will likely be incinerated or wind up in a landfill. There are also environmental concerns involved in the making of composite fiber rotor blades, too.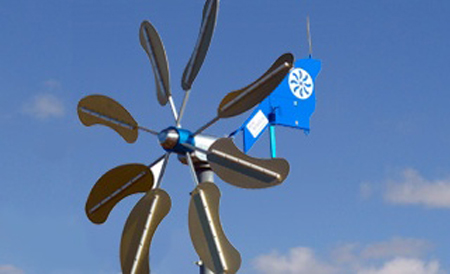 One of the keys to the Windancer's design approach is the fact that its wind blades are made of aluminum, a metal that can be recycled over and over without losing its integrity. So, when the Windancer nears the end of its life cycle, instead of being decommissioned it can be reconditioned and reused.
ISRI is the creator of Design for Recycling, a voluntary program that urges manufacturers to think about making a product that can be recycled right from the drawing-board stage. Robin Wiener, ISRI's president, noted that engineers face a tough challenge when it comes to "balancing safety, energy efficiency and cost with the consumer's passion for the latest and greatest technology." and praised Wind Simplicity by saying the company is "proof positive that you can manufacture a sustainable product – a product that helps sustain both energy and your bottom line."