Wave energy research is already an important part of the renewable energy efforts being made by universities in the Pacific Northwest but recent news issued by Oregon State University (OSU) indicates it could be headed to a whole new level. In the report, OSU says that the Northwest National Marine Renewable Energy Center (NNMREC)-a collaboration between researchers at OSU and the University of Washington since 2008-has been working on securing an off-shore parcel of ocean that would facilitate needs for large scale wave energy research and testing purposes. OSU, for example, currently operates a small-scale wave power testing facility in the form of the Hinsdale Wave Research Laboratory, but the needs of its project partners like Texas-based Neptune Wave Power call for testing at a larger scale. That sort of full scale field testing could begin soon now that the NNMREC has officially selected a site for what is to become the first wave energy research program and facility of its type in the US.
Funded by the state of Oregon and the U.S. Department of Energy, the site would be about one square mile in size, two miles northwest of Yaquina Head on the central Oregon coast. The facility would be located in an area where water is about 150-180 feet deep, with a sandy seafloor. According to OSU, it is exposed to unobstructed waves that have traveled thousands of miles across the Pacific Ocean.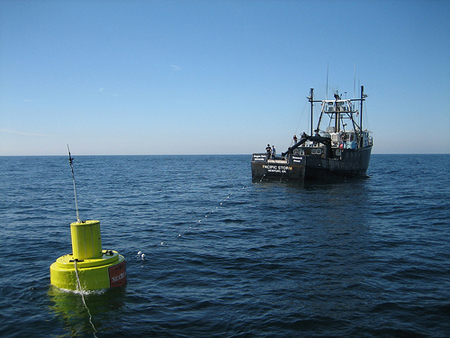 OSU reports that the final decision on the site was made by officials from the NNMREC. The site was chosen after two years of discussions with Oregon coastal communities, fishermen, state agencies, wave energy developers and scientists. The facility will be located within Oregon territorial waters not far from the Hatfield Marine Science Center and nearby  onshore roads and marine support services.
Annette von Jouanne, an OSU professor of electrical engineering and leader with the university's wave energy research programs, said that if plans and permits are approved, the facility could be open for use by wave energy developers as early as this fall. Once open, researchers will be able to test full-scale wave energy devices as well as study any potential environmental impacts the devices have on sediments, invertebrates and fish. The report also indicates that the facility will not be connected to the land-based electricity grid, at least initially, in order to simplify and expedite ocean testing.