Evolving public interest in the "smart grid" and general interest in energy cost savings are likely contributing factors to the growing list of home energy monitors that are becoming available to consumers. A roadblock to more widespread adoption of these devices, however, is that they are not broadly distributed and, therefore, not as convenient to look at and purchase for many. Early adopters have managed to bring the product category this far, but now Lowe's seems to think that it is ready to take the home energy monitor market  to the next level. In an announcement made by Blue Line Innovations we learn that many Lowe's home improvement stores are now carrying the company's PowerCost home energy monitoring system, placing it within easy reach of "70% of the US population."
The PowerCost monitor is a self-installed product that Blue Line thinks will resonate with the DIY-ers that patronize Lowe's. The device works by installing an optical sensor to a home's power meter via a single clamp system. The optical sensor "reads" power consumption by tracking the movement of the meter's wheel. The sensor then transmits the information wirelessly  to a portable in-home monitor that displays power-use information. That information is also made available via Wi-Fi to a home network where it can then be utilized by free energy monitoring programs like Google's PowerMeter or Microsoft's Hohm application.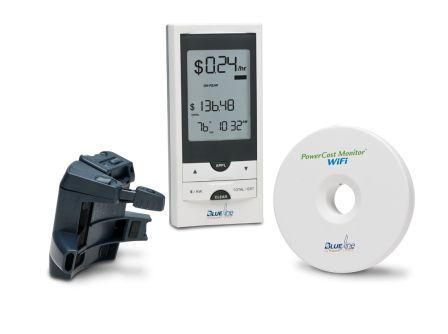 Once in the hands of an application like PowerMeter, the data can be displayed graphically and presented in real time or within the context of historical use. Peter Porteous, CEO of Blue Line Innovations, thinks that by using a home energy monitor, homeowners could potentially reduce their energy bills by 12% or more.
The PowerCost monitor is currently available  in 319 Lowe's stores in 24 states and also online. The product is taking up residence in Lowe's "Energy Center," a section of the stores dedicated to energy savings and clean energy.