Live in the Rocky Mountain Region and looking for some new green digs? The Solera apartment development, located at 20th and Lawrence streets in downtown Denver, may be right up your alley–and if so, you'll be able to brag to all your friends that you live in the region's only LEED Gold certified apartment building.
This 11-story development features 120 one- and two-bedroom apartments ranging from $1,035 to $2,990 per month. Green features include low-e windows, Energy Star appliances, high- efficiency lighting, dual flush toilets and locally produced cabinetry. As an added bonus, solar power accounts for about 10 percent of the power used in the development as a whole.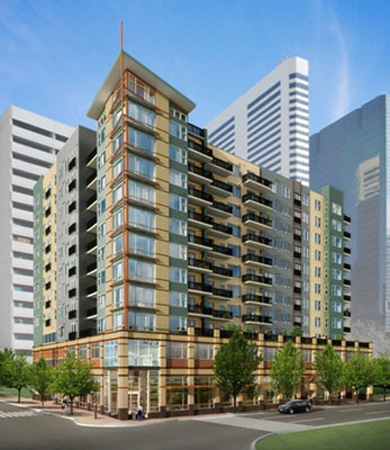 Another notable green amenity is known as TED–The Energy Device–a real-time power usage display tool that helps renters make informed decisions about energy usage and utility bills.
Solera also touts a 1,500-square-foot fitness center, a "bike maintenance area," and 5,500 square feet of retail space. More information is available online.