Jatropha, in the world of biofuels, has become quite the controversial little shrub. Much excitement has been expressed over the plant's potential to become the world's big biofuel producer. In 2007, Oil giant BP teamed up with D1 Oils on a $160 million project to cultivate jatropha as a feedstock for biofuel which led the venture to plant 220,000 hectares of the shrub. Then, suddenly, BP announced it was  dumping the project. Apparently the super hardy plant that was thought to be drought resistant turned out to be a real water-hog. Then,  reports from jatropha farmers in India indicated that not only was the plant not growing the way they had expected, but it had killed some cattle too.
Just when things were starting to look really dark for jatropha, Boeing has piped up as if to say, "cool your jets, folks." It turns out that Boeing commissioned Yale University to conduct a study on the use of jatropha as a source for sustainable aviation fuel and the results show that the plant, when properly cultivated, does in fact show promise.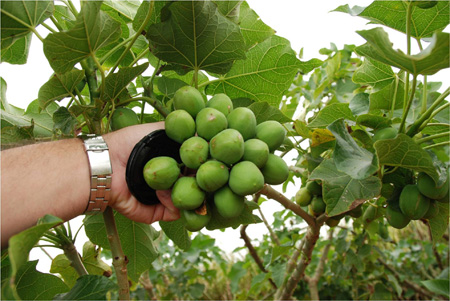 Not only does Yale's research indicate a confirmation of jatropha's potential, it points to errors in previous research which may have caused the failures that earlier projects have suffered. The report says that, unlike previous research which was based on theoretical models, Yale's research included actual field measurements taken in Latin America as well as information gleaned from interviews with local jatropha farmers who have experience growing and observing the plant.
Yale's report, according to Boeing,  produced two important findings. One is that early jatropha projects suffered from a lack of developed seed strains, which led to poor crop yields. The report maintains that private and government research into jatropha seed engineering is essential for developing a strain that meets the criteria for growing the plant well on a large scale. The other key finding points to prior land use as one of the most important considerations for making certain that Jatropha growing represents an quantifiable reduction in carbon emissions and greenhouse gases.
Boeing isn't the only company that refuses to shut the door on jatropha. GM and the US Department of Energy (DOE) recently announced a partnership that will further investigate jatropha as a viable biofuel source. Meanwhile, the U.S. military and Sustainable Oils continue their exploration into the use of Camelina as a biofuel source that, aside from producing high yields of oil, is nontoxic and functions as a feedstock as well.
EarthTechling wants your opinion! Take EarthTechling's 3-minute reader survey and enter to win a $250 Amazon gift card.  The 2011 survey closes on April 15, 2011.