Hyundai debuted some details about its first fuel-cell sedan called Blue2. The name 'Blue2' is a combination of Hyundai's sub eco-brand 'Blue Drive' and the number `2' from H2, the symbol for hydrogen gas.
Name aside the new full cell vehicle concept is looking to offer mid-size owners a bit of luxury with LED exterior panels, cameras instead of rear-view mirrors, leather leaf-pattern interior, and even a cluster ionizer to filter the air.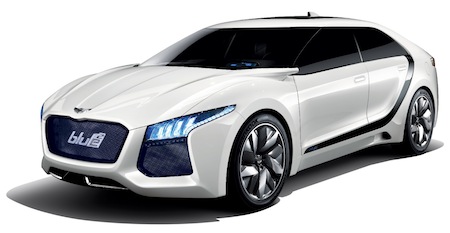 Equipped with a 90 kilowatt electric system, the Blue2 claims a fuel economy equal to roughly 82 miles per gallon. Inside, the vehicle features an infotainment center, transparent organic light emitting diode monitor and touch-screen technology.
The vehicle certainly seems to be modeled after modern Bentley design, purposeful or not, and is admittedly quite stylish. As the Blue2 is only a concept vehicle at this point, little other details were given, but the car is definitely one we'll be watching for in the coming months.
EarthTechling wants your opinion! Take EarthTechling's 3-minute reader survey and enter to win a $250 Amazon gift card.  The 2011 survey closes on April 15, 2011.