Say you're considering the addition of some form of renewable energy source to your home. When it comes time to shop for a solar power system or perhaps a wind turbine, chances are Walmart doesn't jump to the top of your mind as a destination for such things.
You may be surprised, however, to find that the mega-giant retailer which sells everything from shoes to shower curtains also happens to offer a selection of renewable energy devices, including this 600 watt wind turbine.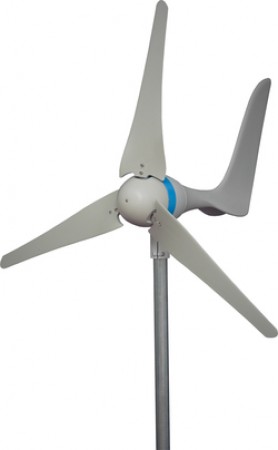 The turbine is made for Coleman, a company best known for their camping gear, by SunForce it looks like. The 12 volt turbine is made of carbon fiber and metal, weighs about 19 lbs. and measures in at 27″ x 26″ x 9.7″.
Walmart has the Coleman turbine priced at $765.00. According to the product description, the turbine will start up in winds as low as 4 mph. Installation of the device is a DIY proposition and, once assembled and erected, the turbine is said to be able to charge either 12 volt or 24 volt battery banks.
The video below, found on YouTube, looks to be a test of its abilities by a random person who owns it as a SunForce 600 watt model. Results are…interesting, we will say. See for yourself below: