Editors Note: This post remains in our archive but may contain outdated information. Read updated reviews of the best solar panel kits in 2019 for more up to date information about the best solar panel kit options available today.
Costco members will soon be able to add solar power systems for clean energy solutions at home alongside power tools and pancake mix on their shopping lists. Eugene, Oregon based Grape Solar has recently announced that several of its solar kits will soon be available through Costco's website in the  "Hardware" section under the Generators & Backup Power subcategory. Costco members will have a choice of  880W, 2300W, 3680W or 5060W ready-to-install kits, with prices ranging from around $3,600 upwards to around $18,000.
The solar kits are "grid-tied" systems that include Grape Solar panels, inverters, and racking systems that are ready to install onto the roofs of homes and other structures. Grape Solar says the kits are designed to be expandable, so customers can start small and grow their system over time if they wish. In order to facilitate installation, Grape Solar says that it developed a network of over 5,000 installers who will be available to provide locally based customer support.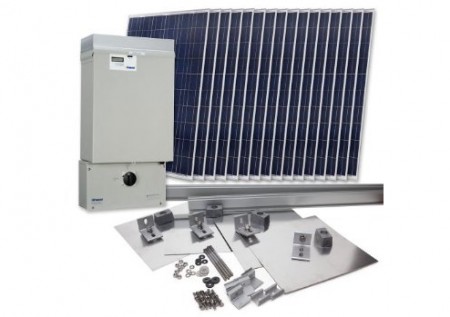 Grape Solar says it launched a test program in several markets starting in July of 2010. Customer response was apparently positive, so the program was expanded to include other warehouses in high-demand solar markets. Once the products are available on-line, they can be ordered and delivered to a buyer's home in just a few days.
Grape Solar's panels come with a 25-year warranty on power output and a 10-year warranty on materials and workmanship. All of the home solar kits should be eligible for federal, state and local utility rebate and incentive programs, but it would be wise to ask first if unsure.
EarthTechling wants your opinion! Take EarthTechling's 3-minute reader survey and enter to win a $250 Amazon gift card.  The 2011 survey closes on April 15, 2011.