One factor everyone wonders about when buying a new car is how safe it is in case of an accident. For green cars, such as the Chevy Volt and the Nissan Leaf, this is especially a question to consider given their short history in the market. Now, the Insurance Institute for Highway Safety (IIHS) has done its first ever U.S. crash tests of mainstream electric cars to rate how these types of vehicles hold up under impact.
The IIHS found the Volt and Leaf earned top safety ratings in general for good front, side, rear, and rollover crash protection. Both vehicles were ranked as a Top Safety Pick which, according to IIHS standards, mark the cars as offering a higher level of protection than federal safety standards require.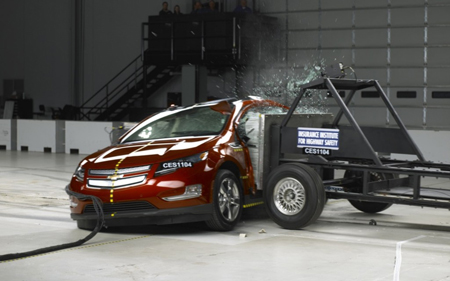 The Volt and Leaf, said the IIHS, "are the first mainstream electric cars the Institute has tested. Last year engineers put 2 low-speed electric vehicles through side barrier tests for research purposes. Results for the GEM e2 and Wheego Whip were starkly different from results for the Volt and Leaf. Crash test dummies in the GEM and Wheego recorded data suggesting severe or fatal injuries to real drivers."
The IIHS noted as well that though both vehicles are classified as small cars, their hefty battery packs put their curb weights closer to midsize and larger cars. With this additional weight, both vehicles are seen as being safer if one follows the mantra of larger, heavier vehicles generally doing a better job of protecting people in serious crashes than smaller, lighter ones.