Running a global party empire is hard work, we assume–so luckily, the folks at Bacardi Americas in Coral Gables, Florida, have some new green digs from which to conduct operations.
The company's new headquarters recently took LEED Gold for Commercial Interiors for a host of green features, including its water use reduction, energy efficiency, and indoor air quality. The building works to combat the heat island effect so common in cities, while providing employees with easy access to alternative transportation. (Development density and impact on the surrounding community was also a factor in the building's LEED designation.)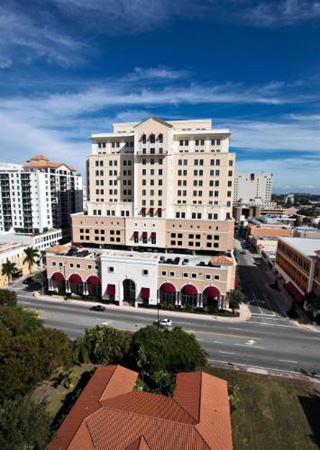 The Bacardi Americas Headquarters occupies a total of 207,630 square feet in a fifteen-story, Mediterranean-styled building. It received a total of 36 LEED credits in the program's five categories: Sustainable Sites, Water Efficiency, Energy & Atmosphere, Materials & Resources and Indoor Environmental Quality.
"We made it a priority to create a high-performance, environmentally responsible office environment for our employees and the community," said John Esposito, president and CEO, Bacardi U.S.A., in a statement. The building houses more than 300 employees of Bacardi Americas, including Bacardi U.S.A., Inc., Bacardi Latin America and Bacardi Americas Travel Retail.