As an engineering and environmental consulting firm, GAI Consultants understands good design. That understanding is reflected in the company's new office building, which happens to be downtown Orlando's first privately-developed green office.
Located on a former infill site, the GAI Building features 105,000 square feet of professional office space and a 300-space integrated parking garage. It was developed at a cost of $30 million and was designed for LEED certification, with eco-friendly elements throughout, such as floors made from corn and Energy Star qualified technology devices.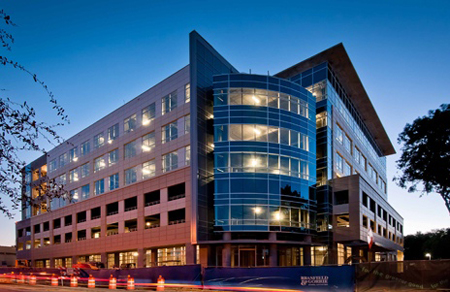 In looking to build its 21st nationwide location, the firm was looking for more modern, sustainable space. Ustler Development delivered, creating a downtown structure designed for a smaller environmental footprint than typical urban buildings.
Interestingly enough, GAI Consultants is not just the anchor tenant, but served as the project's civil engineer. The firm has now signed a long-term lease to occupy 65,000 square feet of the seven-story building.
EarthTechling wants your opinion! Take EarthTechling's 3-minute reader survey and enter to win a $250 Amazon gift card.  The 2011 survey closes on April 15, 2011.