Ironically, it was the hearty winds of southeast Washington which Puget Sound Energy (PSE) plans to harness that, for a short time, brought progress on the company's Lower Snake River Wind Project to a halt last month. The 70 MPH gusts have since calmed down, construction resumed and recently the first of the project's 430-foot-tall turbines was erected by Siemens Energy at the project location just outside Pomeroy.
The turbine is the first of 149 that PSE expects to see erected and operating by spring 2012. Once completed, the 343-megawatt Lower Snake River Wind Project will be PSE's largest wind-power facility and one of the largest in the Pacific Northwest. PSE expects this first phase of its wind farm to generate enough electricity for about 100,000 homes.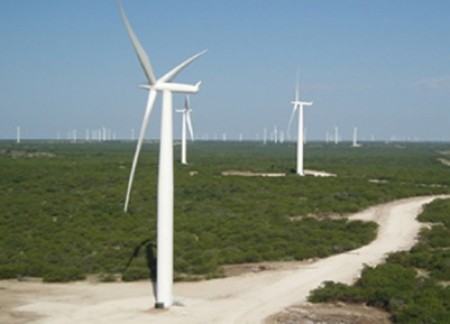 The 340 ton turbines are being erected and bolted onto 8.5′ thick concrete foundations that weigh a hefty 600 tons themselves. The rotor diameter of the 2.3 MW Siemens-made  turbines is an impressive 331 feet-that's longer than a football field.
PSE's other wind projects include the Hopkins Ridge Wind Facility, completed in 2005 and the Wild Horse Wind and Solar Facility, which was completed in 2006. Those two facilities qualified PSE as the second largest utility producer of wind power in the U.S. Adding in Phase 1 of this latest project boosts their wind power capacity by 80% and, together with their other two facilities, nets PSE enough electricity to serve about 230,000 households.
EarthTechling wants your opinion! Take EarthTechling's 3-minute reader survey and enter to win a $250 Amazon gift card.  The 2011 survey closes on April 15, 2011.