Ocean Power Technologies (OPT) has just completed construction on one its largest wave energy device yet and promises to deliver up to 150 kW of peak output by harnessing the power of the ocean's movements.
This PB150 PowerBuoy was built and assembled in Invergordon, Scotland and is supposed to be deployed for sea trials 33 nautical miles from there, just off Scotland's northeast coast. OPT reports that it has already secured the Scottish government's blessing for the sea trials, which should be underway as soon as weather conditions permit.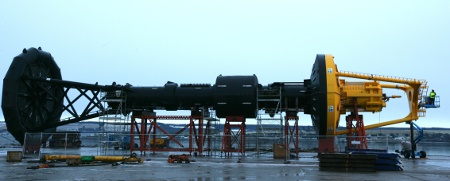 The PB150 is 135 feet long and 36 feet in max. diameter close to where the buoy breaks the ocean surface. OPT plans to put the device in the waters at Invergordon, then tow it to the test site. Once installed, the company will run a barrage of tests on the PowerBuoy to insure it is viable for commercial use. Data from the Buoy will flow in real time to OPT engineers for analysis.
OPT hopes for positive test  results that would spark interest amongst investors and garner additional funding which will be necessary to put the PB150 to work on a commercial level. A second PB150 is already under construction in the U.S. for a utility-scale project here in Oregon , an initiative that was brought about by a round of federal funding late last year. The company also has met success with smaller scale deployments of its technology, including one near a Hawaii military base.