If you want to make big strides toward improving solar energy technologies, you've got to be able to test your ideas year 'round and in a place where sun exposure is both persistent and hot. Abu Dhabi is just such a place. We've already reported on  Abu Dhabi's Masdar project and some of their more  innovative programs such as the Land Art Generator Initiative and recent advances in solar powered cooling. Now, we're beginning to see some collaborative efforts between the U.S. Department of Energy (DOE) and Masdar that are intended to hasten the advance of renewable and sustainable energy technologies.
Last April, the DOE and Masdar began a program designed to promote collaboration and information exchanges on the development of all sorts of clean energy technologies. Since then, US and UAE scientists have been actively trading information on a wide array of topics and, on February 28th, we learned that this collaboration has already begun to bear fruit. Recent exchanges of soil samples and visits to Abu Dhabi by US scientists has led to the development of a new coating technology for photovoltaic (PV) modules that shows promise in addressing some of the heat, cementation and dry dust challenges currently facing PV module manufacturers.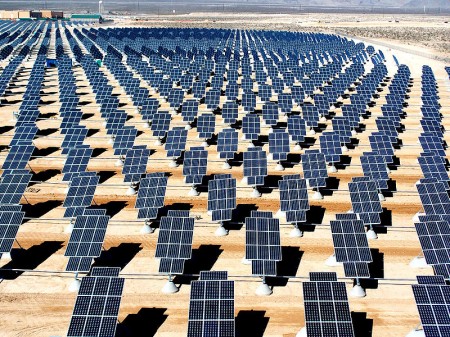 Dr. Sultan Al Jaber, CEO of Masdar, made the joint announcement at the Masdar test-field dedicated to testing the new PV modules. He noted that "this pilot project demonstrates the real, tangible benefits created by the ongoing cooperation between the United Arab Emirates and the United States of America. Our strong alignment in renewable energy research and development will not only benefit both of our nations, but also the global transition towards clean energy solutions."
The United States and the United Arab Emirates, said the DOE, will continue collaboration when the second Clean Energy Ministerial is held in Abu Dhabi on April 6-7, 2011. U.S. Secretary of Energy Dr. Steven Chu, alongside other member nations, will be in attendance.