Tesla Motors has only been "down under" for a short bit, but the luxury electric vehicle maker is hoping to make a splash in the Australian market by taking one of its Roadsters on a 3,000 kilometer trip along the nation's eastern coast. Given that some drivers in Australia in late 2009 went 313 miles on a single charge, the electric vehicle will definitely not finish the trip in just a couple of days.
Tesla is calling its Aussie driving adventure The Oz Goes Electric tour. The road trip will Victoria, New South Wales and Queensland and will feature test drive events and public displays of the Tesla Roadster at its different stops. Plans are to charge the electric car along the way using solar, wind, hydro and biomass energy provided by major utility AGL Resources.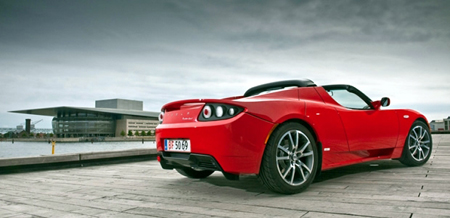 The tour has already begun, having kicked off March 16 at the Sofitel Hotel in Melbourne. For those unfamiliar with the Roadster, it is handmade with a carbon fiber body. It accelerates from 0 to 100 kph in less than 4 seconds and consumes no petroleum. Tesla said as well that this vehicle requires less routine maintenance than conventional cars, needs no oil changes or smog checks and has no spark plugs or pistons to replace
As for price, a mere $206,188 AUD, plus "on road costs" – whatever those may be.
We hope you are enjoying the green technology news and insight provided by our dedicated editorial staff. If you do, please take a moment to help us spread the word by voting for us as Best Environmental Sci-Tech blog in the annual Best of Green 2011 TreeHugger awards. Voting ends on April 1, 2011. Thank you!