A couple of months ago we reported on the inside peek at the Model S that Tesla offered to attendees of the North American International Auto Show. Now, after a Q&A session held for Tesla loyalists at the company's newest store in Milan, Sales VP George Blankenship serves up some vital details on production, delivery dates, features and prices of the anticipated electric vehicle.
Blankenship started by confirming that Alpha testing of the Model S began in December 2010. Later this year, Tesla plans to have the Beta version built and providing the final data they need for production. As for production, the first 1000 vehicles off their manufacturing line will be destined for North America and badged as the Model S Signature Series. As such, this limited edition will sport the company's 300-mile battery and a bevy of options. Tesla says they expect to have this first run delivered to North America by mid-2012. After the signature series deliveries are completed, Tesla plans on issuing Model S cars, adding in models equipped with a 230-mile and 160-mile battery. European deliveries of the vehicle are also expected to start by mid-2012.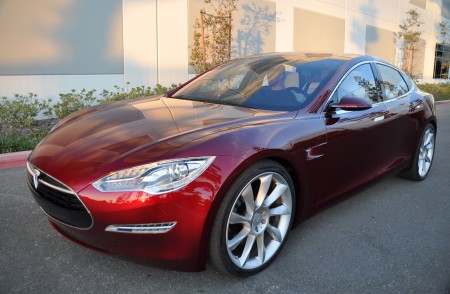 Prices for the three models follow previous expectations. The US base Model S, equipped with the 160-mile battery, will be priced at $49,900 and that's AFTER a $7,500 federal tax credit. The 230 and 300-mile versions are expected to be priced at $59,900 and $69,900 respectively, though final pricing details won't be released until later this summer.
The Tesla Model-S is said to be able to accelerate from 0-60 in 5.9 seconds, with a top speed of 120 MPH. The three different battery sizes are said to be chargeable in as little as 45 minutes. It offers seating for five adults and two children plus bonus cargo space under the hood.