Suzuki and Intelligent Energy have announced that their joint Burgman Fuel Cell Scooter has obtained Whole Vehicle Type Approval (WVTA). The WVTA qualification allows the electric scooter to travel on public roads in places around the world where this approval is followed, and reportedly is the first time any fuel cell vehicle to have achieved this level of certification.
The Suzuki Burgman Fuel Cell Scooter was first unveiled at the Tokyo Motor Show in 2009, but wasn't launched until February of 2010 in London. Since then, the vehicle has undergone several tests, including inspection from the British Technology Strategy Board.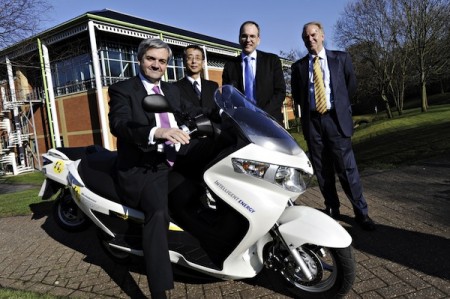 Powered by an air-cooled fuel cell and hydrogen tank located inside the frame, the new electric scooter is based on the design of the original, combustion engine Suzuki Burgman. At this time no price has been set for the electric model, but standard Burgman scooters retail for roughly $9,000.
Suzuki debuted a smaller electric scooter late last year called the e-Let's, but the new Burgman Fuel Cell Scooter seems to be more powerful, and perhaps practical than its tiny cousin. Michigan based Current Motors released similar models for pre-order in the United States only a few months ago, however, it's still too soon to compare the different models. But if you're looking for a truly unique way to travel, and a bit of a gear-head, you may want to try to outfit an older model with solar panels, like Purdue student Tony Coiro did last fall.
We hope you are enjoying the green technology news and insight provided by our dedicated editorial staff. If you do, please take a moment to help us spread the word by voting for us as Best Environmental Sci-Tech blog in the annual Best of Green 2011 TreeHugger awards. Voting ends on April 1, 2011. Thank you!