For the first time, a solar energy system – paid for, in part, by the Recovery Act – is fully powering the cleanup of contaminated groundwater at a federal Superfund site. The Environmental Protection Agency (EPA) recently unveiled the system in Davis, Calif., where for years until the mid-1980s employees at Frontier Fertilizer illegally deposited toxic waste.
So how does solar power come into play in cleaning up contaminated groundwater? The chief process the EPA is using to clean up the site is one called thermal treatment. The agency has placed 236 electrodes into the ground at the site to heat the soil and groundwater to the boiling point of water. The heat will degrade some of the contaminants, while others are vaporized, captured by extraction wells and then treated with granular activated carbon.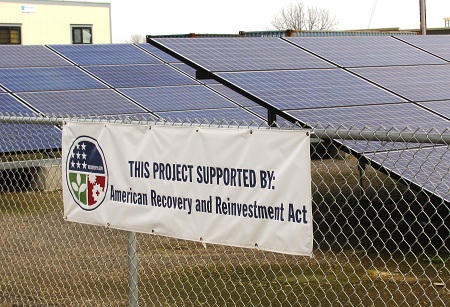 The agency said the Recovery Act provided more than $2.5 million dollars for "recent improvements at the site," and that powering the thermal treatment process with solar "will lower overall energy costs by $15,000 a year and reduce CO2 emissions by more than 54 metric tons a year."  The thermal treatment will also speed the cleanup by an estimated 120 years, the agency said, though of course that would have been the case even if the power had come from a traditional source.
The EPA didn't give details about the solar installation's scale. However, it did note that some solar panels were put in place at the Frontier site in 2007, partially offsetting power needs for the groundwater treatment system. Last year, $350,000 in Recovery Act funds were used specifically to expand the solar system, which now provides all of the power for the groundwater treatment system.