United States Republican Tennessee Senator Lamar Alexander recently became a new Nissan Leaf owner and believes that charging his electric car will give him "the patriotic pleasure of not sending money overseas to people who are trying to blow us up." The senator's strong words may come a surprise to some, not only because of the implication that international oil dealers fund violent reprisal against America, but also because electric vehicles are often something seen as a more liberal initiative.
But perhaps it was Nissan's decision last year to start production in Tennessee on a $1.7 billion battery and car manufacturing plant, $1.4 billion of which came from a U.S. Department of Energy loan, that spurred the Senator's comments and action. Tennessee is one of the state's participating in ECOtality's EV Project, a program rolling out electric vehicles and charging stations across the county, and partially funded by a $114.8 million dollar grant from the U.S. Department of Energy.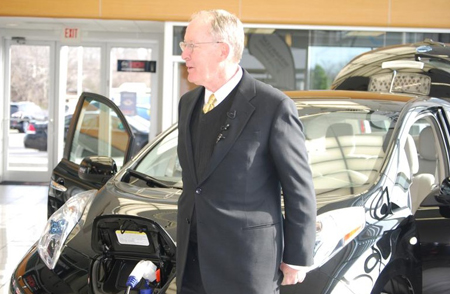 The senator, who is leasing the vehicle out of his own pocket, is no stranger to green cars apparently. He has driven in the past  a Toyota Prius that he converted into a plug-in electric vehicle, which he charged at home by plugging it in at night. He was also the lead Republican cosponsor last Congress of S. 3495, the "Promoting Electric Vehicles Act of 2010," which aimed to speed up the introduction of electric cars and trucks throughout the country.
Alexander is known as a moderate Republican who sits on several environmental and energy appropriations subcommittees, so perhaps his support of federal subsidies for alternative energy advancement isn't so strange. After all, as European countries continue to heavily invest in renewable energy, America will need to stay competitive in the global market. In that case, the strangest thing about Senator Alexander may be his remarkable piano skills, some of which he once displayed on NPR.