Portland Trail Blazers fans entering the LEED Gold certified Rose Garden on April 3 to watch their home team play the Dallas Mavericks (we will be there) will be a getting a lesson in green energy as well as a hopeful win to keep their team competitive for the playoffs. The NBA franchise, working with local utility Pacific Power, plans to host what it calls its annual "Green Game."
Fans in attendance this night will be able to learn about "green power" throughout the game, though what specifically will be broadcast on the big screens fans watch action on was not mentioned. Gift bags with what are called "sustainable goodies" will be offered during a series of promotions throughout the game as well.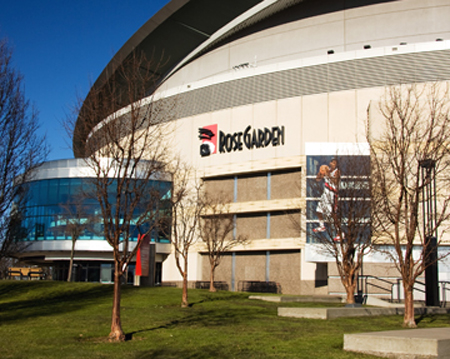 Pacific Power people will be on hand to promote the utility's Blue Sky renewable energy program, joined by someone from the Energy Trust of Oregon, who will be talking about energy efficiency in the home. The facility all of this is going on in – the Rose Garden – is said by the Trail Blazers to be the first, and at the moment only, professional sports venue to have LEED Gold certification for existing buildings. The massive complex, through the energy efficiency retrofit that brought it into LEED compliance, reportedly saves more than 2 million kilowatt hours annually and offsets its energy usage with purchases from the Blue Sky program.
The Trail Blazers are also partners in the recently formed Green Sports Alliance, which was formed in conjunction with Natural Resources Defense Council, among others, in an aim for sports teams and their facilities to "identify and adopt innovative environmental initiatives and share information about best practices and opportunities to measure and reduce their impact on the environment."