Porsche recently opened up ordering for their plug-in hybrid sports car, the 918 Spyder. We first reported about the vehicle when it was only a concept at 2010's Geneva Auto Show, and again when Porsche announced a limited run of the car, and we're happy to announce the stylish vehicle is now available for worldwide ordering.
With a 500-plus horsepower 4.0 litre V8 engine, and two electric motors with 218 horsepower, the sports car is an all-wheel drive vehicle that can go from 0 to 60 in 3.1 seconds, with a top speed of 199 miles per hour. According to the New European Driving Cycle (NEDC), the 918 Spyder consumes 3.0L/110km of fuel, or less than 1 gallon of gas per roughly 70 miles. Official EPA fuel economy data is expected just before the car arrives to U.S. customers.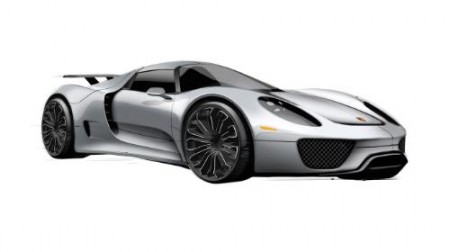 The plug-in hybrid is estimated to be able to travel up to 94 miles in electric-only model under the perfect conditions, but real-world conditions may vary. Porsche will only be making, like the car's namesake, 918 versions of the new model worldwide. That exclusivity, and the car's impressive hybrid performance, does come at a steep price. The suggested U.S. retail price for the 918 Spyder is $845,000.
Porsche has been making some bold moves in green cars this year, including a fun, little Boxster E that is still in the prototype phase, but impressive for an all-electric car. The company also released details of a cheaper, more practically priced, but lower performance hybrid at this year's Geneva Auto Show called the Panamera S. But the best, or at least the most interesting, hybrid Porsche has shown off this year is their Semper Vivus, a functional recreation of the first hybrid the company ever built way back at the turn of the 19th century.
We hope you are enjoying the green technology news and insight provided by our dedicated editorial staff. If you do, please take a moment to help us spread the word by voting for us as Best Environmental Sci-Tech blog in the annual Best of Green 2011 TreeHugger awards. Voting ends on April 1, 2011. Thank you!