Cleantech ventures trying to find funding sometimes get shut out if they don't know the right connections or don't have a way to viably present their idea to those looking to offer funding and advice. A recently out of beta website called OnGreen, which we first noted last year, thinks it has a solution to this visibility issue, debuting itself as "a comprehensive destination for cleantech professionals, connecting cleantech businesses and entrepreneurs with investors, expertise and resources."
OnGreen, which is headquartered in Los Angeles but has backing from a Chinese investment firm, said that since its website went into beta not too long ago it has "attracted 250 start-ups from more than 35 countries, representing $1.9B in funding opportunities." Reportedly more than half of those entrepreneurs received investor inquiries.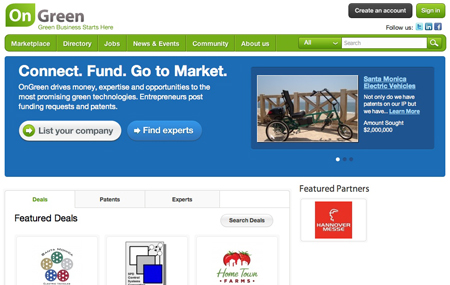 A $1.4 million first round of financing by China Southern Hong Kong Investment, which happened late last year, is spurring OnGreen to provide investors with deal vetting and to expand its China marketplace. It has also partnered with the University of Michigan and Joint US-China Collaboration on Clean Energy (JUCCCE) on a project that is described as "working with Chinese companies to invest in University R&D and patents in exchange for which they would acquire joint rights to the associated intellectual property."
The OnGreen site is broken down into what are called three key areas, focused upon: entrepreneurs pitching investors for funding; the buying and/or licensing of intellectual patents; and collaboration between business and technology experts around cleantech discussions.
We hope you are enjoying the green technology news and insight provided by our dedicated editorial staff. If you do, please take a moment to help us spread the word by voting for us as Best Environmental Sci-Tech blog in the annual Best of Green 2011 TreeHugger awards. Voting ends on April 1, 2011. Thank you!