An organization dedicated to helping people enjoy the great outdoors ought to have a green-certified building, and now, New York State Parks does.
The organization's new Taconic Regional Headquarters has been awarded Platinum-level LEED certification by the U.S. Green Building Council in recognition of its recent renovation of an old school building, Staatsburg School, into a "highly energy efficient and sustainable building." The renovation was made possible by a gift from New York State Parks supporter Dr. Lucy R. Waletzky, whose gift covered $3 million of the $7.9 million project.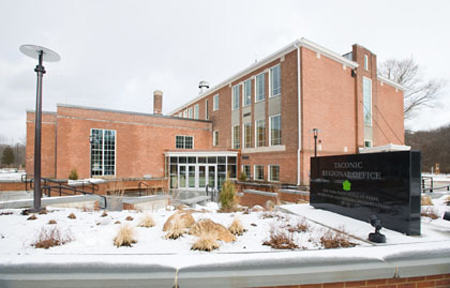 The new and improved Taconic Regional Headquarters features a geothermal heating and cooling system, a solar power system, highly-efficiency windows, "innovative insulation methods," and efficient, modern lighting.
Other green elements include healthy ventilation systems, low VOC-emitting products throughout (glues, paints and carpets), recyclcled content carpet, partitions, and ceilings, and low-flow water features. Outside, the building makes use of permeable pavement and parking structures as well as on-site stormwater management.
The renovated school is the first public building in the state of New York  to take LEED Platinum for new construction or renovation.