Florida Power and Light (FPL) has just taken the wraps off of its brand new, one of a kind "Martin Next Generation Solar Energy Center". The sprawling facility occupies roughly 500 acres in Martin County, Florida, and mates 190,000 solar thermal mirrors to an existing combined-cycle natural gas power plant.
The center is said to harness enough solar energy to produce 75 megawatts of electricity, or power approximately 11,000 homes at capacity.  With two other large-scale solar centers already in service, the utility said its solar energy output now totals around 110 megawatts, and it has already secured and permitted sites where more than 500 megawatts of new solar power could be built.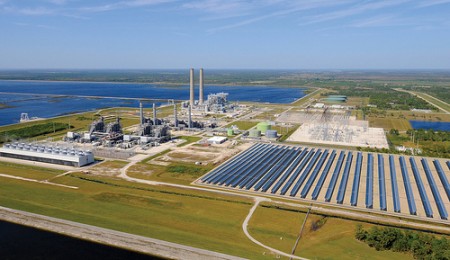 FPL expects the Martin, Fl plant  will reduce fossil fuel consumption by around 41 billion cubic feet of natural gas and more than 600,000 barrels of oil. It is also expected to save FPL customers approximately $178 million in fuel costs over the facility's estimated 30-year lifetime.
The two years of construction on the facility generated over 1,000 jobs, most of which were filled by Floridians.The scope of the project also involved over 150 Florida business, which helped support the employment of thousands more, even in the face of record unemployment numbers. In addition, the plant is expected to generated over $5 million in tax revenue for the state during the first full year of its operation.