The recession has sent the building boom bust all over, but you'd never guess it in Houston, Texas, where the Houston Ballet reports that it saved nearly $3.2 million on the construction of its swank new Center for Dance, due to lower prices of steel and concrete as a result of the 2008 recession.
The new six-story, 115,000 square foot building–which opens to the public on April 9th–came in at a cool $46.6 million and features nine dance studios, a dance lab with seating for 200 (for presentations as well as rehearsals), and artistic, administrative and support facilities for Houston Ballet and its academy. When the Center for Dance opens, it will reportedly be the largest professional dance company facility in the nation.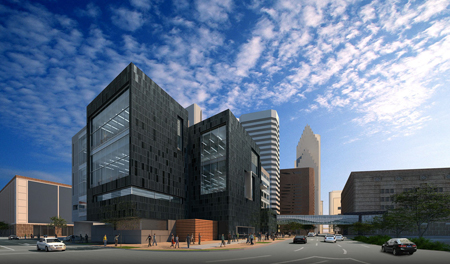 The structure was designed by the Gensler architecture firm and makes use of sustainable features such as extensive natural daylight harvesting coupled with an automatically adjusting lighting system; low gain windows; automatic blinds; recycled materials; water efficient plumbing; low water landscaping on the grounds; and recycled/re-purposed furniture from the Houston Ballet's West Gray facility.
According to World Interior Design Network, the architect designed the facility around a gallery-like concept, working with a neutral colour palette and a recurrent linear theme. The facility features views overlooking downtown Houston and the bayou and clear interior sight lines that engender "a spirit of openness, activity and collaboration."