Waldemar Alameda, 40, served in the U.S. Army with distinction in multiple tours of Iraq, Kosovo, Bosnia and Afghanistan. In 2007, after 17 years of service to his country, he became permanently disabled by an improvised explosive device (IED) explosion he encountered on the road about two miles from his destination, Camp Speicher, in Tikrit, Iraq. When the device blew, his modified Humvee shielded him from the shrapnel, but not the blast.
The difficult world Alameda returned to was one many vets like him face back home, complicated by severe injuries, financial hardships and mounting bills. It is estimated that more than 4.3 million veterans have a combined family income of less than $20,000, making it difficult, if not impossible, to pay for the modifications needed to make an existing home wheel-chair-friendly, or to purchase a new home built to universal design standards.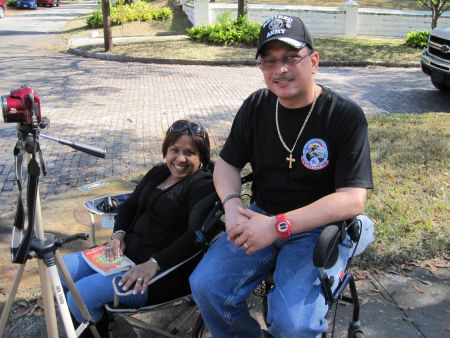 Mr. Alameda suffers from severe leg and back pain, and while he can walk short distances with a cane or walker, he typically has to use a wheel chair to get around. He also suffers from post traumatic stress disorder and traumatic brain injury and tends to forgets things. After becoming disabled, Alameda moved his wife, Wanda, his son Waldemar Jr (12) and his daughter, Maria Del Mar (11) to Tampa so he could get help at the James A. Haley VA Medical Center for these injuries.
It was here that Alameda's counselor from the Veterans Administration helped him to fill out and submit an application to an organization called Rebuilding Together. While the organization is focused primarily on providing home repair services to people who might not otherwise be able to afford them, Waldemar was chosen to receive a brand-new, green home at no cost through a partnership with the NextGen Home Experience, Sears Holdings' Heroes at Home program and the Rebuilding Together affiliate in Tampa Bay.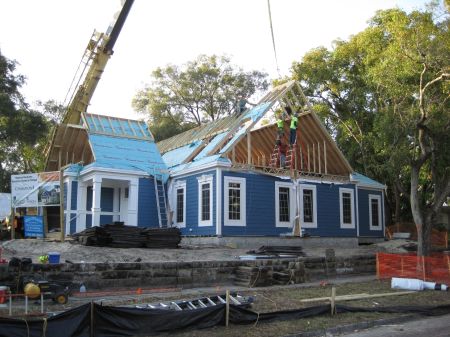 In September of 2010, Waldemar was informed that he'd been chosen as the recipient of this home, which he then had a chance to preview at the 2011 International Builders Show in Orlando. The home was on display at the show to highlight its green building technologies and systems, which include best solar panels on the roof, a natural gas tankless water heater and extensive insulation.
Waldemar's new LEED-certified home was shipped in pieces to Tampa, where local and national volunteers from Rebuilding Together, Sears' Heroes at Home and NextGen Home Experience came together to re-construct it on-site.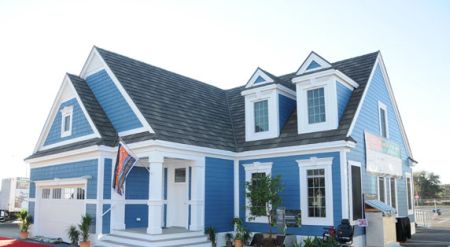 "My favorite features are the fact that there are ramps throughout the home," Alameda told us.  "The master bedroom is on the first floor, so it's much more accessible." He goes on to note that the house also features a chair lift, so he won't have a problem getting up to the second floor to spend time with his children.
Jose Garcia of Rebuilding Together Tampa understands the importance of this kind of accessibility for disabled vets, as his organization's Veterans Housing program was created to meet the home modification and repair needs of veterans from past and present wars.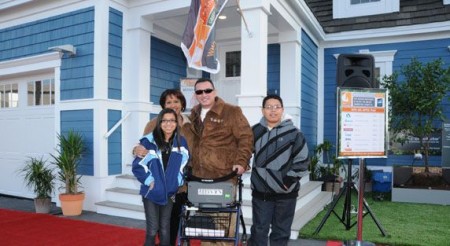 "On average, our network completes 10,000 rebuild projects a year," he told us. He goes on to note that while the focus of Rebuilding Together is on the rehabilitation of existing homes for low-income families, seniors and the disabled, the unique partnership between Rebuilding Together's partners in Tampa Bay allowed them to provide a brand new home for Alameda and his family.
NextGen Home Experience, produced by iShowMedia, is a showcase for previewing the "next" in next generation trends, products and services for the American home. Sears Holdings' Heroes at Home program–which donated the Energy Star rated appliances for the Alameda home–provides support to military service members, veterans and their families through joint efforts with various non-profit organizations, and has raised over 12 million dollars for Rebuilding Together U.S. veterans. (Later this year Sears Heroes at Home and Rebuilding Together will meet a landmark by rebuilding their 1000th home for veterans.)
Rebuilding Together was started nearly 30 years ago by a small group of people who wanted to help repair homes for their elderly neighbors. Today, it is the nation's largest non-profit organization focused on preserving affordable homeownership for low-income individuals and families, with 200 affiliates nationwide and 2.5 million volunteers. Since its inception, Rebuilding Together has delivered over $1 billion in services and repairs to low-income homeowners.
As for Rebuilding Together's latest project, Alameda reports that his family loves it. "We are so blessed to have been given this opportunity," he said. Alameda received the keys to his new home on March 8th, 2011.