Electric vehicles are key to easing society off the nipple of the fossil fuel gas pump. The problem is: where do you find its electric charger equivalent when you are out on the open road and realize your battery is about to go kaput? A new answer to that comes in the form of Google Maps, which is sourcing from the U.S. Department of Energy's National Renewable Energy Laboratory (NREL) for some of its data.
The addition of EV charging locations to Google Maps is apparently nothing new, as a Googler mentions that "we've also been adding information to Google Maps over the past few months to help users find charging stations." What is interesting out of this is their turning to the NREL for more data on where these stations are via use of the GeoEVSE Forum. This online undertaking of the NREL is designed to help develop a detailed, accurate database of electric vehicle charging stations' locations.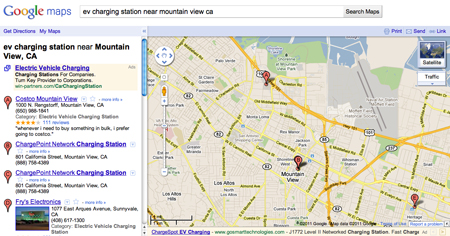 Google is, of course, encouraging that if you find a problem with EV charging locations that you report it to them. As for the database, the Internet search giant hopes that if you are an an automaker, an electric vehicle charging station manufacturer or installer, an EV consumer group or any other interested party, you get involved with the NREL's efforts to map charging locations. It benefits many a entity, including, of course, Google's overall usefulness to you.