The second wave of residential electric charging stations that are a part of The EV Project were recently installed in Oregon. The Blink Level 2 charging stations from ECOtality were rolled-out as a component of The EV Project's goal of setting up 15,000 charging stations in six states across the country. The program was reported on last year, but this marked first wave of residential service. The $230 million program was possible by a $114.8 million dollar grant from the U.S. Department of Energy as part of the American Recovery and Reinvestment Act.
ECOtality has ambitious plans for Oregon, hoping to install over 1,000 public charging stations in the metropolitan area. By installing electric charging stations in Portland, Salem, Corvallis, Eugene, Medford and Ashland, The EV Project will essentially build a network of renewable energy infrastructure the length of Oregon's I-5. U.S. Senator Jeff Merkley is impressed with the plan, saying, "I look forward to the day in the near future where I can drive all across Oregon in an electric vehicle."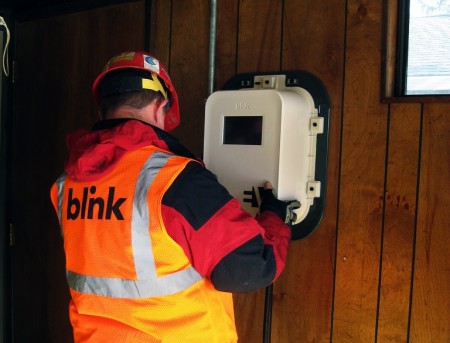 The charging stations have a 240 volt AC input, a touch-screen user interface, and can be installed indoors or outside. At the moment, only EV Project participates who own a Nissan Leaf or Chevy Volt are receiving the charging stations, free of charge as part of the program. Manufactured by Roush Industries of Michigan, the stations are meant to provide an easy to use infrastructure for the EV Project's deployment of over 8,000 electric cars.
The EV Project has some features that may appeal to electric drivers, including an interactive map where participants can search locations of charging stations, some of which are located near Best Buy stores, and network management.