Simon Williams, an inventor from Australia, has revealed his prototype electric bike that was designed specifically for postal carriers. Calling the new vehicle the Deliver-E Trike, Williams was originally interested in developing an electric motorcycle before he saw a titling electric trike in 2005 called The RIDER. And while he didn't see that particular invention as being useful for implementation as a road bike, he did see potential for delivery drivers.
Williams left his job to work as a postal carrier for 18 months to get an idea of what postal workers have to deal with on a daily basis. The three-wheel electric vehicle has two, rear arm-wheels that pivot independently, allowing it to rest against a slope on its own, something Williams believes is essential for a carrier vehicle. Another feature Williams says is necessary is a reserve gear, saving time and muscle backing-up a motorcycle manually.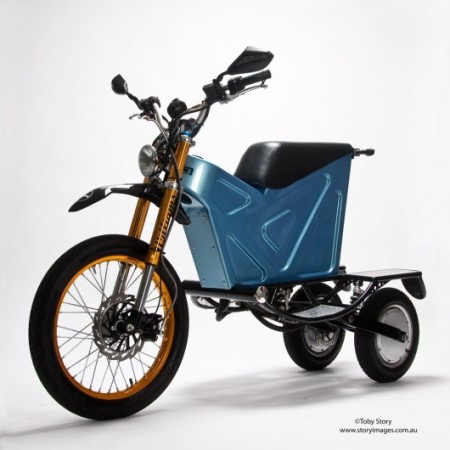 Williams road a Honda CT110 during his time as an Australian postman, and found it to be bulky, heavy, and difficult to maneuver. His tricycle sports two rear wheels that feature an electric motor in each, and 16 lithium-ion batteries than can be fully charged in three hours. The roughly 265 lbs vehicle can travel up to 37 miles, and has a top speed of 50 miles per hour.
Currently, Williams is seeking funding to mass produce the Delivery-E Trike, which he says can be manufactured in five hours. While the design is certainly intelligent, and an excellent example of how specialization can target ideal solutions, the electric vehicle could be limited by range and ability to deliver overly large Amazon.com orders.
We hope you are enjoying the green technology news and insight provided by our dedicated editorial staff. If you do, please take a moment to help us spread the word by voting for us as Best Environmental Sci-Tech blog in the annual Best of Green 2011 TreeHugger awards. Voting ends on April 1, 2011. Thank you!