ECOtality's EV Project has continued their expansion into the state of Washington this month, installing residential charging stations for Nissan LEAF owners. The EV Project began installations earlier this year in San Diego with plans for other states, like Tennessee.
The residential installations come just after the rollout in Oregon, and are part of a large plan to provide charging locations along Interstate 5 on the West coast. The $230 million program was possible by a $114.8 million dollar grant from the U.S. Department of Energy as part of the American Recovery and Reinvestment Act. ECOtality will work with Puget Sound Energy for operations in Washington to determine how the electric infrastructure can best be supported.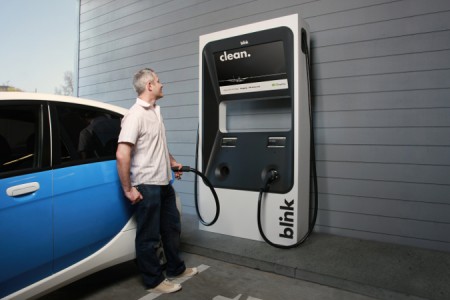 The announcement of the project starting Washington came at the same time as the announce of a partnership with Fred Meyer stores. The new deal is the first food retail chain involved in the EV Project. However, late last year the program announced charging stations would be available at participating Best Buy locations, and earlier this year released details about their agreement with Sprint.
Starting later this summer, charging stations will be installed at specific Fred Meyer stores in Washington and Oregon. Current locations being looked at are Portland's Hollywood and Stadium districts, as well as suburban areas like Gresham; in Washington, the towns of Everett, Alderwood, Bellevue, Lake City, and Kent are being considered. The Blink charging stations will also be installed along routes that connect the United States and Canada.