The first residential electric charging stations that are a part of Ecotality's The EV Project were installed in Los Angeles and San Diego, California at the end of February. The Blink Level 2 charging stations were rolled out as the start of The EV Project's goal of setting up 15,000 charging stations in six states across the country. The program was reported on last year, but this marked the first wave of residential service.
According to the Executive Director of the California Plug-in Electric Vehicle Collaborative, the state is the largest market for vehicles that can use the charging stations, making it the best choice for the launch of the program.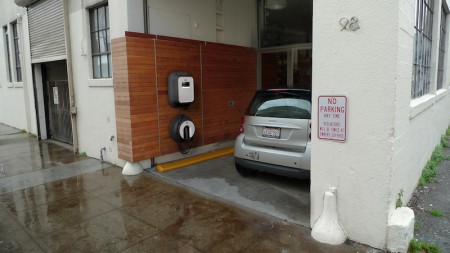 The charging stations have a 240 volt AC input, a touch-screen user interface, and can be installed indoors or outside. At the moment, only EV Project participates who own a Nissan Leaf or Chevy Volt are receiving the charging stations, free of charge as part of the program. Manufactured by Roush Industries of Michigan, the stations are meant to provide an easy to use infrastructure for the EV Project's deployment.
Unveiled last year, the Blink charging station can now be purchased, but competing technology is already on the market. Ideally, because of the number of companies involved, price, features, and service repairs will soon improve for consumers looking to charge their vehicles at home. For more news about the ever-evolving electric vehicle charging station industry, see EarthTechling's in-depth feature by Pete Danko.