Last year, we reported that the U.S. Department of Energy had offered the Vehicle Production Group a nearly $50 million loan guarantee to develop an American factory-built wheelchair accessible vehicle that will run on compressed natural gas. Now, we bring word that this loan has been finalized, and is expected to result in 900 green jobs.
The six-passenger MV-1 van will be manufactured in the Mishawaka, Indiana, AM General Plant, where Vehicle Production Group projects that, at full capacity, the project will produce over 22,000 vehicles per year. The company estimates that manufacturing the MV-1 will produce over 100 jobs directly, as well as approximately 800 more direct and indirect jobs across 17 states for the assembly, part suppliers, production and sale of the vehicle.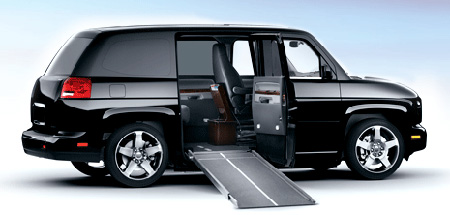 According to the Miami-based Vehicle Production Group, the MV-1 is the only purpose-built vehicle that is designed for wheelchair accessibility from the ground up, as well as the only current factory-built, light-duty vehicle that meets or exceeds the guidelines of the Americans with Disabilities Act.
The van–which will runs exclusively on compresed natural gas–features a deployable access ramp with a 1,200-pound weight capacity, a 36-inch entryway and an interior that accommodates up to six passengers with the optional jump seat, including one or two wheel-chairs and the driver.