An ambitious clean energy bill passed this week in the California legislature sets an aggressive goal that could give renewable energy programs in the state a big boost. The bill, written by State Senator Joe Simitian (D-Palo Alto), stipulates that private and public utilities must obtain 33% of the states energy renewable resources by 2020. Previously, the state's goal was 20% by 2010.
According to a statement from the Independent Energy Producers, in addition to raising the bar for renewable energy, the bill (SBX1-2) is supposed to "protect system reliability, foster resource diversity, and produce the greatest environmental benefits for California residents."  It addresses the fact that the current 20% goal only applies to investor-owned utilities and independent sellers. Public utilities, under the existing goal, are not held accountable and, though the senator acknowledges some of them have set goals, he also points out that few of them have been met.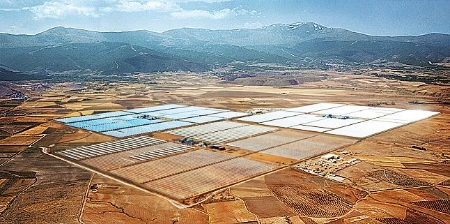 The legislation would certainly light a fire under the feet of the all of the state's utilities, but  Senator Simitian notes that the bill "does not require utilities to reach the goal at any cost." The California Public Utilities Commission (PUC) would have to approve new renewable energy contracts and, if necessary, utilities could be granted an exemption should the price of energy, or the challenges with getting it into the grid, make for excessive costs.
Now that the bill has passed both the State Senate (by a vote of 26-11) and the State Assembly,  the next and final stop for the bill would be the desk of California Governor Jerry Brown .The governor has the opportunity to approve it as part of a special session on the budget and economic development that is currently being held.