Billed as "the world's first comprehensive resource on energy performance rating and disclosure policies for homes and commercial buildings," BuildingRating.org is the product of a new collaboration between The Institute for Market Transformation (IMT) and the Natural Resources Defense Council (NRDC).
The website features a searchable library of rating and disclosure information on buildings in more than 100 countries and jurisdictions, as well as a user-friendly, interactive map of global policies and programs. Users can discover where green building policies are being enacted, how they are being implemented, what types of rating systems are used to evaluate energy performance, and how such policies are impacting real estate markets worldwide.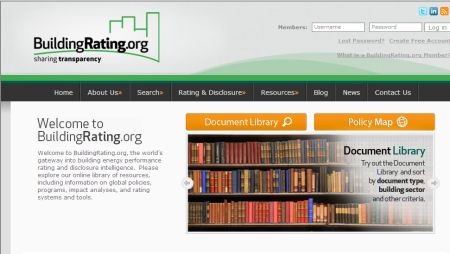 The goal here is to raise consumer awareness of energy efficiency by offering accessible, accurate information on the energy performance and associated operational costs of homes and buildings. The European Union, China, Australia and a number of U.S. states and cities have all enacted rating and disclosure policies, which contributes to the wealth of information available on the site.
"The initial information-gathering process for BuildingRating.org took more than four months to complete," said David Leipziger, research associate at IMT and the lead researcher for BuildingRating.org, in a statement [PDF]. "We believe cataloguing this information and making it accessible will benefit diverse stakeholders in the public and private sectors."