Hmm. Maybe NextEra Energy Resources wants to think again about the size of the concentrating solar power (CSP) project it's developing out in the desert near Blythe, Calif. If new research from CSP Today is correct, with a capacity of 250 megawatts (MW), NextEra's Genesis Solar Project might be bigger than is optimal.
CSP Today said it interviewed 45 CSP developers, component manufacturers and scientists to determine the ideal scale for solar power plants using parabolic trough systems. Researchers looked at plants sized as small as 100 MW all the way up to those as big as 280 MW. They found that at 150 MW, developers could take advantage of high-volume pricing on components. But beyond that point, "parasitic losses and operations and maintenance costs" could begin to cut into those volume savings.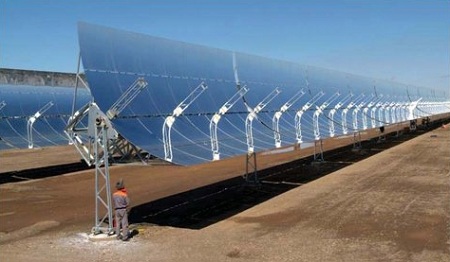 "The 150 MW plant size was identified as the optimal plant with a reduction of 12 to 18 percent in levelized cost of energy correlated to the plant scale up," CSP Today said.
The researchers said their simulations were done assuming 7.5 hours of thermal storage. They added: "Knowing how to achieve the most energy at the lowest cost from parabolic trough CSP is vital as parabolic trough accounts for more than 98 percent of total operating CSP plants and 70 percent of plants under construction."