Cross Virginia off the list of states waiting for a Wind for Schools participant to have a turbine up and running. Northumberland Middle/High School – taking advantage of $20,000 in Recovery Act money that came via the Virginia Department of Mines, Minerals and Energy – just installed a wind power system capable of generating 2.4 kilowatts of electricity. Eleven states now have schools in the program, according to the U.S. Department of Energy.
Through Wind for Schools, land-grant university students help to install turbines in school yards and deliver lessons on wind power to younger students. Schools receive the benefit of electricity, and teachers incorporate the energy data into their math and science classes.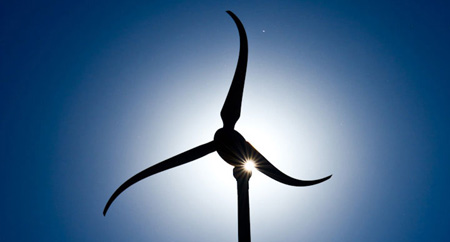 In Virginia, the program is administered by the Virginia Center for Wind Energy at James Madison University. According to the center's director, the installation at Northumberland, on Chesapeake Bay, is intended more as an educational tool than a means to make electricity. "The educational benefit completely outweighs the electrical," said Remy Luerssen.
Luerssen said more schools in Virginia are in the process of installing wind turbines. Others are getting involved by installing anemometers to track the wind at their school, in the process building the interest and excitement needed to do the work to get a turbine in place and operating. Virginia schools interested in participating are asked to visit Virginia's Wind for School's website.