We've seen New Energy Technologies announce a series of advances in its attempt to turn windows into solar panels, and now the company says it has a working, 1-square-foot see-through glass prototype that can generate electricity. An earlier version of this solar window was just 4 inches by 4 inches, and New Energy says the boost in size takes it a big step closer to bringing a product to market.
"We continue to pursue an aggressive product development program, working to improve, among other things, solar cell efficiency, power output, durability, manufacturability and further scale-up," says company president and CEO John Conklin.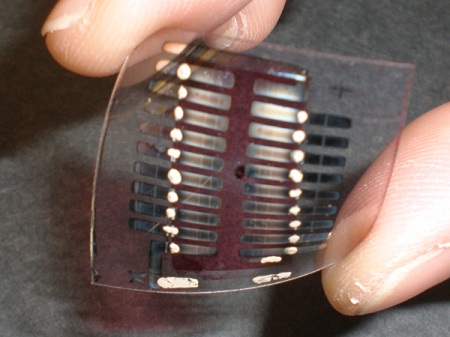 New Energy's process involves "spraying" electricity-generating, nano-sized solar cells directly onto glass, "eliminating expensive and often cumbersome or high-vacuum production methods typically used by current solar manufacturers," it says.
The coatings are less than 1/10th the thickness of thin films, New Energy says, taking advantage of what it calls "the world's smallest functional solar cells." The company claims that by generating electricity from both natural and artificial light sources, its cells "outperform today's commercial solar and thin-film technologies by as much as tenfold."