Putting aside the environmental issues around snowmobiles for a moment, here's a unique way to get the citizenry feeling good about the local wind power plant: First Wind is joining with the Quad County Snowmobile Club to host a snowmobile ride-in to the developer's Stetson Wind plant near Danforth, Maine, this Saturday. The plan is to ride to the plant's operations and maintenance building, enjoy a barbecue lunch and check out the 1.5-megawatt (MW) GE turbines on 262-foot-tall towers up close.
Cold weather probably wouldn't stop many Maine snowmobilers, no matter what, but the good news is that temperatures in the area, which were hovering in the teens early in the week, are expected to rise into the 30s on Saturday under mostly cloudy skies, the National Weather Service was forecasting. Meanwhile, there's lots of snow on the ground, which wasn't the case last year, forcing the event, first held in 2009, to be canceled.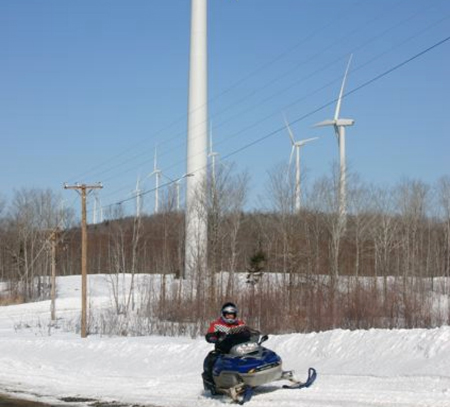 According to First Wind, Stetson was built in two phases, with a 57-MW capacity portion beginning operations in January 2009 and an additional 17 MW of capacity added in spring 2010. It's one of three wind plants the Boston-based company has in Maine.
First Wind and the Quad County Snowmobile Club are inviting various other snowmobile clubs to do the ride-in. We share their names here simply because we don't often get to list a bunch of cool-sounding snowmobile clubs on EarthTechling: the Lincoln Snowhounds, Lee Mogul Pounders, Burlington Back Country Riders, Quad County Riders, East Grand Snowmobile Club, Smoki Haulers and the Mattawamkeag Roadrunners.